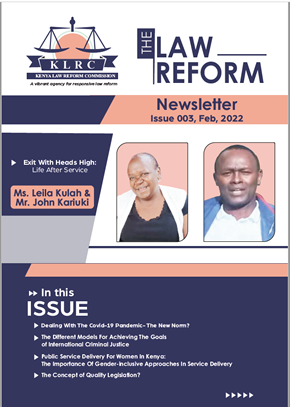 In this Issue
Dealing With The Covid-19 Pandemic- The New Norm?
The Different Models For Achieving The Goals of International Criminal Justice
Public Service Delivery For Women In Kenya: The Importance Of Gender-inclusive Approaches In Service Delivery
The Concept of Quality Legislation?
Message from the Editor in Chief
The Kenya Law Reform Commission rd (KLRC) is glad to publish the 3 issue of the Law Reform Newsletter (LRN). The issue comes at a time when the world and the country have braved the COVID 19 pandemic. Subsequently, KLRC like other organizations has taken proactive measures in line with the Ministry of Health guidelines to tackle the pandemic.
The Law Reform Newsletter thus highlights the key legislative, policy and administrative initiatives taken to address the pandemic and guarantee normalcy. It also captures KLRC's contributions to its mandate of law reform and shares critical experiences and lessons. Part of this issue has also been dedicated to the recent work done by KLRC in close collaboration with our stakeholders and partners.
It is worth noting that the Law Reform Newsletter has been instituted so as to enhance public awareness and access to information on law reform in Kenya as well as across the borders.
.
---

Download Kenya Law Reform Newsletter Issue 003 (PDF, 1.5MB)
---