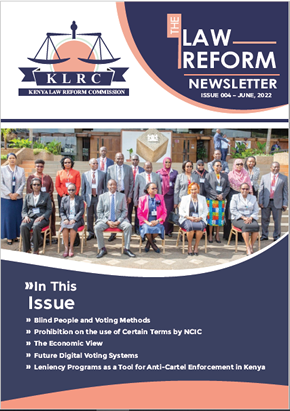 In this Issue
Blind People and Voting Methods
Prohibition on the use of Certain Terms by NCIC
The Economic View
Future Digital Voting Systems
Leniency Programs as a Tool for Anti-Cartel Enforcement in Kenya
Message from the Editor in Chief
"It is worth noting that the Law Reform Newsletter has been instituted so as to enhance public awareness and access to information on law reform in Kenya as well as across the borders."
The issue comes at a time when Kenya is about to undergo its 3rd general election after the promulgation of the2010 Constitution.
The Law Reform Newsletter thus highlights the key issues, experiences and lessons on legislative, policy and
administrative aspects that may arise prior to, during and after the elections. It also captures KLRC`s contributions to its mandate of law reform and shares critical experiences and lessons. Part of this issue has also been dedicated to the recent work done by KLRC in close collaboration with our stakeholders and partners.
It is worth noting that the Law Reform Newsletter has been instituted so as to enhance public awareness and
access to information on law reform in Kenya as well as across the borders. The Law Reform Newsletter targets the policy makers at the two levels of government (National and County Governments), legislators, Civil Society, Development Partners.
---

Download Kenya Law Reform Newsletter Issue 004 (PDF, 1.5MB)
---