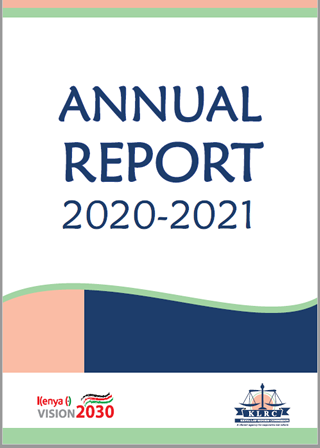 ANNUAL REPORT FOR THE FINANCIAL YEAR 2020/2021
The Kenya Law Reform Commission (KLRC) has a mission to facilitate law reform conducive to social, economic and political development through keeping all the law of Kenya under review, ensuring their systematic development and reform inconformity with the Constitution of Kenya.
It is our pleasure to formally present the Annual Report for the financial year 2020/2021.This Report has been prepared pursuant to Section 32 of the KLRC Act, 2013 and all other enabling provisions of the Law of Kenya.Itc aptures our mandate, strategic goals, targets, achievements and milestones realized in the reporting period. The Report further highlights challenges encountered, lessons learnt and the relevant recommendations.
It is our sincere hope, that the Report will inform future policy interventions andbe a useful tool in promoting feedback and building commitment in law reformwork in Kenya.
We thank you in advance for the continued support.
Mr. Joash Dache, MBS
Secretary/ Chief Executive Officer
---
The publication of this Annual Report for the financial year 2020/2021 has beenmade possible with the support and contributions of KLRC officers led by Mr. JoashDache,MBs (the Secretary/CEO); Mr. Peter Musyimi, HSC (Head of LegislativeDrafting/Ag. Director, Finance and Administration); Ms. Mercy Muthuuri (Ag.Director, Legislative Services); Mr. Mathew Kimanzi (Head of Public Education); Ms.Margret Githae (Head of Accounts); Mr. Cornelius Mu sangi (Head of Finance); Mr.Alex Matheri (Head of Planning); Dr. Jacob Otachi (Head of Corporate Affairs andCommunications); and all other Heads of Departments and staff.
Finally, KLRC is indebted to the people of Kenya for entrusting us with this criticalmandate and believing in our ability to deliver.God bless you.
---

Download Annual Report 2020-2021 (PDF, 4MB)
---