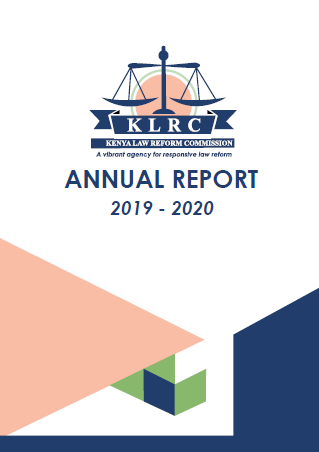 The Kenya Law Reform Commission (KLRC) is privileged to publish the Annual Report for the financial year 2019/20. The report captures our mandate, the approach, the goals, targets and achievements realized as well as the financial statements for the reporting period. It also highlights the challenges encountered, recommendations, lessons learnt and the way forward.
We are delighted that the financial year 2019/20 was full of success stories and an upward improvement in service delivery. Summarily, we were able to: develop legislation required to implement the Constitution pursuant to Clause 5(6) (b) of the Sixth Schedule of the Constitution; assist a number of MDAs with the review and harmonization of their respective legislative
frameworks with the Constitution; and provide technical assistance to county governments with regard to reform or amendment of their laws/policies/ regulations. We also gave legal advisory opinions whenever we were required to.
Amid the successes, the year was also characterized by daunting challenges including the global pandemic of COVID-19 which somehow stalled our operations. The commissioners' term of office had also come to an end and thus most part of the year was without their crucial strategic leadership and policy input. We equally experienced budget cuts, staff turnover
owing to retirement among other challenges which we graciously overcame.
The KLRC management is grateful for the continued support of all the staff who contributed to the successes, weathered and innovated through the challenges experienced and emerged stronger than before. We are equally thankful to the outgoing Commissioners including the Chairperson whose policy leadership was pivotal to our success.
Ultimately, we bid farewell to the financial year 2019/20 heads held high and looking forward to living our mission of facilitating law reform conducive for the social, economic and political development of Kenya in the incoming one.
---
Download KLRC Annual Report 2019-2020 (PDF, 5MB)
---