Kenya law Reform Commission welcomes you to the 2014 Nairobi International Trade Fare which will be held at Nairobi Jamuhuri Park from 29th September to 5th October 2014. The theme for the show is
"Enhancing Technology in Agriculture and Industry for Food Security and National Growth"


"Kuimarisha Teknologia na Viwanda ili Kujitosheleza kwa Chakula na Ustawi wa Taifa"
As a Commission we have worked very closely with all the agricultural agencies to formulate laws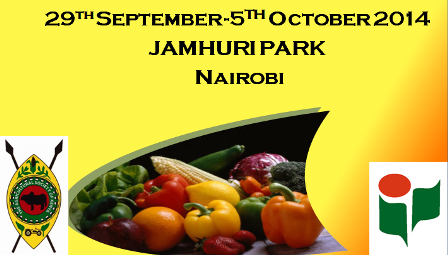 which support agribusiness ventures. We have partnered with the Ministry of Agriculture, Fisheries and Livestock Development to prepare: - The Agriculture, Fisheries and Food Authority Act, 2013 [No. 16 of 2013]; The Crops Act, 2013 [No. 13 of 2013]; and The Kenya Agricultural and Livestock research Act, 2013 [No.17 of 2013]. We have subsequently worked with the State Department of Agriculture to prepare the attendant Regulations to give further and specific effect to the above pieces of legislation especially to enhance their operational frameworks. These modern laws and regulations to develop are designed to among others enhance technology based agriculture.
We cannot overemphasize the fact that the Agricultural Sector is the biggest employer in the country and has a potential to grow. To demonstrate the first assertion, one will in life ordinarily encounter a Doctor, Policeman, Lawyer or Teacher once in a while but you will literally meet a farmer three times a day in order to survive! as in during breakfast, lunch and dinner.
In giving technical assistance to County Governments as mandated by the Constitution, the Kenya Law Reform Commission Act, 2013 and the County Governments Act, 2012, the Commission has helped a number of Counties prepare various county-based agriculture-related pieces of legislation. Of great significance is the fact that we have developed specific Draft County Model Laws for customization and contextualization by County Governments so as to address their unique challenges. We are happy that a number of County Governments have been able to use these Model Laws as the basis for their own legislation. The Model Laws comprise among others:-
Draft County Models Laws on Agriculture;
Draft County Model Law on Livestock Auctions and Sales;
Draft County Model Law on Horticultural Development;
Draft County Model Law on Animal Welfare; and
Draft County Model Law on Agricultural Development Fund.
As NITF opens its gates for the members of public this Monday, make a date with us and visit us at the Jamuhuri Show ground.