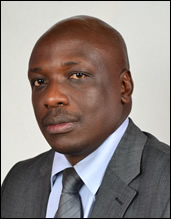 Apollo Mboya is an Advocate and with extensive experience in International Treaties and Agreements. He holds Bachelor of Arts( Political Science & History), LLB, Masters in International Studies (Diplomacy & International Relations), Diploma in Law from Kenya School of Law, Post Graduate Diploma in Human Rights from the Institute of Social Studies (The Hague) and Security Studies from the National Defence College Nairobi.
Between 1999- 2001, worked as a Legal Specialist with the United Nations Development Programme (UNDP). He was a State Counsel between 2001-2008 in the Department of Treaties and Agreement.
He served as the Joint Secretary for the Task Force on Judicial Reforms in Kenya in the year 2011. He has also served as CEO of Law Society of Kenya
He is a member of the Law Society of Kenya, Institute of Certified Public Secretaries of Kenya, the International Commission of Jurists, the East African Law Society, and the Commonwealth Lawyers Association and Outreach Official of the International Bar Association(Africa Region).
He is currently an advocate at the firm of Apollo & Co. Advocates