The LRTC's courtesy call to the KLRC
Law Reform Commission of Tanzania
The Law Reform Commission of Tanzania (LRTC) paid a courtesy call on Kenya Law Reform Commission (KLRC). The delegation was led by the Hon Judge Aloysius K Mujuluzi and it was received by their Kenyan counterparts led by Mr. Mbage Ng'ang'a, the KLRC Chairperson.
United Republic of Tanzania is in the process of enacting a new Constitution. Since Kenya has travelled down that road, the LRTC deemed it fit to learn from KLRC's experiences. The LRTC informed the KLRC team that the Tanzanian Constitution is in Kiswahili something which elicited plenty of discussion.
Brief History of LRTC
The LRTC was formed in 1983 just a year after KLRC and their headquarters are in HAKI house which is their own building. It is located in
Dar es Salaam
and its construction was funded by Danish International Development Agency (DANIDA).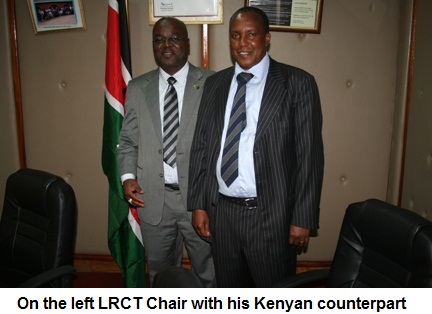 Vision
To be the centre of excellence on legal reforms which promotes justice for sustainable development to society
Mission
To take and keep under review all the laws of United Republic of Tanzania with a view to its systematic development and reform to meet the needs of changing society
Commission's functions
To take and keep under review all the laws of the United republic of Tanzania with a view to its systematic development and reform;
To review at its own instance or otherwise, any law or branch of law and propose measures necessary for:

bringing that law or branch of law into accord with current circumstances within Tanzania

eliminating anomalies or other defects in the law, repealing obsolete or unnecessary laws and reducing the number of separate enactments; and

the proper codification and simplification of that law or branch of law;
To consider and advice on proposals for the adoption of new or more effective methods for the administration of the law and the dispensation of justice;
From time to time, prepare and submit to Attorney General programmes for examination of different branches of law with a view of reforming those laws, including making recommendations as to the agency, whether the Commission or another body, by which any such examination should be carried out;
At the request of the Attorney General, to prepare comprehensive programmes for consolidation and revision of laws, and to undertake preparation of any draft Bills pursuant to any such programme approved by the attorney General; and
At the instance of the Attorney General, to provide advice and assistance to any Ministry or department or any public authority or institution by undertaking the examination of any particular branch of the law and making recommendations for reform so as to bring it into accord with current circumstances.
Structure of the LRCT Commission
It has 9 commissioners with 5 full-time and 4 part-time.
Since 1983, 7 Judges have served at the Commission at various times with the current chairman Hon. Judge Aloysius K Mujulizi serving from 2013.
The current full time commissioners are Ms. Esther J Manyesha, Prof. Sufian H Bukura and Mr. Albert A. Msangi. The part time commissioners are Dr. Benedict T Mapunda and Dr. Eve H Sinare.
Sign up for our Newsletter